July 24, 2020
Thanks for sending the wing bolt cover. I just returned from a week-long trip across the country and had someone at every stop either ask if N84B was brand new or comment about how good the paint looked. The line guy in La Crosse walked up to me yesterday before I departed and told me it is the nicest looking Bonanza he's ever seen come through there. Thanks for all of your hard work on the paint! Chad Sandstedt
Feb 29, 2020
Don, Just wanted to let you know that I could not be more pleased with the paint job on N96W. It looks amazing and the attention to detail is outstanding. I get compliments every time I take it out.
Thank you.
Charley Santoni
Don and Chris are the best of the best!  We delivered our 182 in June 2017 and it was ready by early August.  Don made several great suggestions over the course of the work, all of which we agreed to.  Their extraordinary attention to detail is unparalleled.   The plane needed a paint job badly when we bought it 30 years ago and we tried over the years to find a painter but we never saw any airplanes with impressive paint jobs.  Until now.  The gold and brown metallic paints sparkle like new against the white (we mostly followed the original paint scheme and colors for our model, with a few tweaks).  Even our long-time FBO in Los Angeles was VERY impressed and is showing it off to other pilots who have been searching for a painter.   Don's location in Eloy, Arizona was not a problem at all; he provided transportation to and from PHX for our arrival and departure.  We did have to get in the queue and wait our turn, but that was not a problem as Don kept in touch with updates as to our place in the queue.  We were ready with the paint design by the time our turn came up.  We are so thrilled that we found Arizona Aeropainting and it is clear that they love what they do and go the extra mile.
A NOTE FROM KENT STONES, AUGUST 2013 - AirVenture Grand Reserve Winner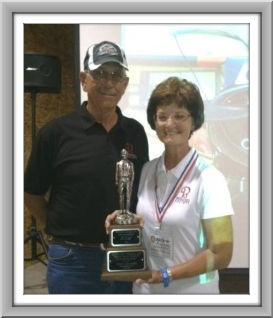 Don,
The past week has been a once in a lifetime week. We flew formation to OSH with 109 B2OSH pilots, and then our plane was the American Bonanza Society display plane at AirVenture all week. And finally, on a spur of the moment, we entered our plane in the judging and was presented the Reserve Grand Champion trophy.
We had hundreds of visitors at the [American Bonanza Society] ABS tent and the first question from most of them was "who did the paint?" We handed out a few of your business cards, but we quickly ran out.
 
 Thanks a lot,
 Kent
A NOTE FROM LARRY PERKINS, DEC 2011:
Race 57 is based at Stellar Airpark in Chandler, Arizona along with a collection of flyable classic aircraft. The Super Corsair is flown regularly by Larry Perkins, pilot for Collectible Aircraft LLC.
A ten and one half month restoration of Race 57 was completed in December, 2011. Eloy based Arizona Aeropainting Owner Don Copeland is one of the best of the best aircraft painters and Race 57 shows it. No expenses were spared. The aircraft owner wanted the Super Corsair to be perfect and he is still looking for an imperfection. Don Copeland and his son, Chris, did an excellent job laying out the stripes. Laying out the red, white and black sunburst stripes on the bottom of an inverted gull wings had to be a challenge. They did not cut any corners. The only people who would ever see the striping on the landing gear doors when the landing gear is retracted would be the mechanic doing the landing gear retraction test. But, Don and Chris wanted it to be perfect so they waited until the landing gear was overhauled and reinstalled. They then retracted the landing gear and laid out the stripes on the doors to perfectly match the striping on the bottom of the wings. REFERENCE: http://warbirdregistry.org/corsairregistry/f2g-n5588n.html
A NOTE FROM JIM & GERRY PRICE, AUG 2012:
In February 2012, we purchased a M20K that had been painted in 2004 by Arizona Aeropainting in Eloy, AZ (E60). Nine years later, people are still asking, "Is that a new paint job?" It still looks like it just came out of the paint shop. Recently, during the right wing fuel tank repair, there was some damage to the paint and the wing walk. I called Arizona Aeropainting owner, Don Copeland, and he agreed to repair it. Don is such a perfectionist, driving to the paint supplier in Tempe, AZ to ensure that the touch up paint was an exact match. The repair turned out beautifully and the total cost for labor and materials was a mere pittance. (I thought there had been a mistake). You won't be disappointed working with Don and Chris Copeland. I highly recommend Arizona Aeropainting.
A NOTE FROM ALAN RAINERI, FEB 2009:
I had my Beechcraft Bonanza (N777CE) painted probably seven or eight years ago by Don Copeland at Arizona Aeropainting. My plane is still the sharpest looking airplane at SJC. it looks as good today as the day I flew it home from Arizona. I still have people comment on my plane as if it was just done. Quality stands up to the test of time and my paint job certainly has. I highly recommend them. I would not trust the job to anyone else after such a great experience. Regards, Alan Raineri SEE REVIEW AT MERCHANT CIRCLE.COM
A NOTE FROM SCOTT NEWMAN, SEP 2007:
Please accept this letter as an expression of my sincere gratitude for the incredible job you and your team did in painting my airplane, [N12AS]. It is my belief that you should refer to your service as "artisan exterior rehabilitation". You went well beyond a typical paint job. Every time I look at the airplane I notice another detail you addressed in the interest of a flawless exterior appearance. READ MORE
A NOTE FROM DOUG FRAIMAN, JUNE 2006:
I wanted to thank you for doing such a great job painting the airplane. It looks better than new!! I will definitely recommend you to others. READ MORE
A NOTE FROM MARTIN STUART, 2006:
Sincere thanks for the terrific job you did on my Cessna 310. I'm thrilled with it and have received numerous comments and compliments. The professional job you did, the great attention to detail . . . READ MORE
A NOTE FROM AL BOYCE, JUL 2003:
(AIRVENTURE OUTSTANDING BEECHCRAFT SINGLE AWARD, 2003). We took the Bonanza to Oshkosh this year. Thanks to your great work, the judges found us the 3rd or 4th best contemporary (1956-1967) Bonanza and awarded a nice plaque. Thanks again for an extraordinary paint job. (N637Q). READ AL'S 2001 LETTER
A NOTE FROM ALBERT HECHT, FEB 2003
Everywhere we fly, we receive a lot of attention because of the Bonanza's great paint job.
A NOTE FROM JIM NELSON, JUL, YEAR UNKNOWN:
. . . in appreciation of the great paint job, but also for getting me back into your busy schedule, picking me up at PHX [Phoenix Sky Harbor], calling me for input and status, etc., etc. I really appreciate the extra service . . . READ MORE
A NOTE FROM GARY, 1995:
I love the paint job. When I landed at Williams, I immediately drew a crowd. This is so much fun. Thanks again, Gary
A NOTE FROM DICK MEYERHOFF, SEP 1995:
Thank you so much for the beautiful paint job you and your organization applied to my Bonanza. the work was so careful, the paint so expertly applied that I just couldn't believe my eyes when I saw the results. It showed a lot of tender loving care, many extras were added, and I will unhesitatingly recommend your shop to all my friends. . . The trim is an eye catcher. READ MORE
A NOTE FROM BRADLEY POWER, FEB 1994:
. . . thank you for the excellent job you and your staff did on our King Air B200 N921AZ. We were fearful that the paint touch up required would not match the old paint. As usual, your work turned out beautifully, and the paint match is great. READ MORE
A NOTE FROM BOB MULLER, MD, AUG 1993
I have just returned from Oshkosh, and everyone loved your paint job! I don't know if I won any awards or not, but there sure were a lot of compliments. READ MORE
A NOTE FROM TIM HARVEY, DEC 1992:
. . . before I decided to have you paint my airplane, I checked out quite a few paint shops and looked at a lot of paint jobs. The quality of your work and the colors that we chose far exceeded my expectations. The detail to the entire job has not gone without notice. READ MORE
A NOTE FROM COURT, MAY 1992:
Thanks for everything. Nothing but rave reviews on the paint job. Everybody loves it.
A NOTE FROM HAROLD DUNN, MD, APR 1991:
The quality of the work [on my Cessna 340] is absolutely outstanding. I have had several comments from three or four owners, my mechanic, professional pilots, etc. . . . Since this is the third airplane you have painted for me in about 20 years, I expected nothing less. READ MORE
A NOTE FROM LOIS TUCHLER, APR 1991:
Many thanks for the beautiful paint job on 1773W. I will be calling you for any special advice on keeping it looks as pretty as it does now. READ MORE
A NOTE FROM MARK MARKMAN, MAY 1990:
I want to thank you again for the excellent paint job on my Duke. Your work certainly fulfilled all of my expectations and it is easy to see the great care that was taken. READ MORE
A NOTE FROM CV:
It's receiving nothing by rave reviews.
A NOTE FROM TY EDLING, SEPT 1988:
. . . . how happy I am with the paint job on the Cessna 310. I truly appreciate the quality. It is very rare today to find people who have the abilities and are willing to take the time to use them to turn out work this nice. READ MORE
A NOTE FROM MORGAN OLIVER, DEC 1987:
The Citation looks great! READ MORE
A NOTE FROM S. C. WARRICK, AUG 1987:
. . . . outstanding paint job you recently completed on Tracor Flight Systems Cessna 310, N103FS. . . . your pride and workmanship really shows. It's flawless! READ MORE
A NOTE FROM SHERWIN BLOCK, MAR 1986:
Your reputation as an artist is well founded. READ MORE
A NOTE FROM DALE FISCHER, AUG 1985:
Nearly everyone that sees [Baron 821D] thinks that it is the best paint job that they have ever seen. One of the workers at Denver Avionics at the Centennial Airport here in Denver said that he did not have to ask who did the paint job because he already knew it was your just be looking carefully at the quality of the job. READ MORE
A NOTE FROM BARBARA FEY, OCT 1983:
. . . my Bonanza with your paint job . . . won 1st prize for the Best Custom Exterior at this year's AOPA convention. . . . several people took down your name. READ MORE
A NOTE FROM KEITH SMITH, JUL 1983:
. . . it is a pleasant shock to deal with a firm as conscientious, skilled and reliable as yours. READ MORE
A NOTE FROM DAVID HALLSTROM, MAY 1978:
This is just a note to let you know how pleased I am with the painting you did on my Meyers 200. It's a super nice job, the price was fair and it was a pleasure doing business with you and your fine people.
A NOTE FROM HAROLD DUNN, MD, MAR 1973:
. . . It is an absolutely beautiful job and looks like new. I have had many favorable comments on it, and I am sure you are going to get getting business from [UTAH] because of the high-quality job you did on this plane. READ MORE
A NOTE FROM JACK SHAWVER, AUG 1973:
The work performed recently by you and your staff in repainting our Cessna 310 was carried out in a professional manner with excellent workmanship and completed on schedule. READ MORE